Jaxson S's quilt &nbsp (Quilt Completed)
Born:
December 2011
Illness:
Pharmacy resistant genetic focal epilepsy, intellectual disability, autism,

Theme: Dinosaurs

Quilt delivered: 17th Oct 2019
Thank you
Jaxson loves his "dinosaur quilt " . He's so excited to put it on his bed tonight. Thank you all to who stitched for his quilt. His hospital stays will be easier, and bed will look so beautiful.
Finished photos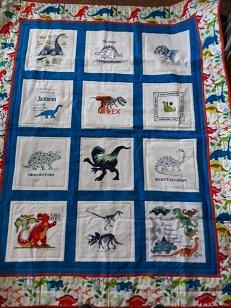 Quilted by:
Diana
Individual squares
Fabric
Card

Stitched by: Sarah Warrener
Biography
Jaxson's pregnancy was quiet horrendous. Pre term labour from 24 weeks till 36. Born healthy but, knew there was something not right. He was behind in his milestones. Never said a word til 5, never walked till 4, never sat till 18 months. His first seizure was at 2. He seizes over 500 times a day. His mobility is limited and muscles are week.
He is on a huge amount of medication, which isn't working. He is on oxygen, the lung specialists are investigating why, he has a multitude of genetic markers of unknown significance. He has swollowing issues and aspiration issues.
Hes a outgoing happy little boy who loves dinasours, trains and blue.