Kia K's quilt (Quilt Closed)
Born:
July 2009
Illness:
Cerebral palsy

Theme: Disney girls

Date opened: 5th Sep 2019
Date closed: 5th Sep 2019
Deadline: 28th Feb 2020


Theme details
Disney girls - Kia loves Frozen. She also like Minnie Mouse, so a good mixture of Disney girls please.
Child Interests
Kias fav colour is purple . She loves the frozen movie .
Biography
Kia is a beautiful 10 year old girl . She is our foster daughter who has been in our care since she was 4 months old . She will live with us for ever now . She was born at 28 weeks and spent her first 4 months in hospital while a suitable home was found for her . Her biological mother was unable to care for her .
At 14 months old Kia had brain surgery to insert a shunt to drain the fluid from her brain . Thankfully this was very successful .
Kia has had many surgeries including tonsils , adenoids , ear surgery , tendon surgery and 18 months ago a huge double hip surgery . She will have an other hip surgery in jan next year .
We have recently moved home and built an accessible home so Kia can access the home fully . She loves her new room . Kia loves swimming , bowling and watching her iPad .
Kia can not stand or walk and uses a wheelchair for mobility .
She is a happy child who loves school especially the bus .

Patterns
1.
Mickey and Friends 10
Stitcher: K. Anne Bradfield, Goonellabah, NSW, Australia
Received
Minnie Mouse with pink bow and shoes
kanne49@gmail.com


2.
PatternArtCollection design
Stitcher: Loraine, Perth, Australia
Received
Belle and Aurora


3.
Elsa from Sisters Forever Design - Twelve Snowflakes by Beth Filmer, Love Quilts UK
Stitcher: Alsa Wu, Melbourne, VIC, Australia
Received
Elsa from frozen in classic blue dress with snowflakes in the background.


4.
By Merete Langseth
Stitcher: E.E. (Beth) Filmer, Adelaide SA , Australia
Received
Cinderella in a Heart


5.
12 Princesses by Pattern Art Collection (Etsy) n/a
Stitcher: Jeneen, PA, USA
Received
Rapunzel (Tangled) and Tiana (Frog Princess)
n/a


6.
Etsy Etsy
Stitcher: Shelli Rippetoe, Mt Juliet, Tennessee, USA
In Progress
Cinderella portrait
etsy


7.
Disney Princess Cross-Stitch
Stitcher: E.E. (Beth) Filmer, Adelaide SA , Australia
Received
Jasmine


8.
Elsa Waist Length with Simple Snowflakes by Beth Filmer (from LQUK FB files)
Stitcher: Anne Shackles, Sydney, NSW, Australia
Received
Elsa Waist Length with Simple Snowflakes by Beth Filmer (from LQUK FB files)


9.
Beth Filmer
Stitcher: E.E. (Beth) Filmer, Adelaide SA , Australia
Received
Anna from Frozen in an Oval Frame


10.


11.


12.
Label
Stitcher: Diana Tanner, Perth, WA, Australia
Received
Squares received
Card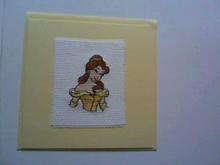 Stitched by: Beth Filmer